Two important topics that are completely unrelated to each other.
Went to the dog park today. Unfortunately, they closed half of it to let the grass grow and it was Pet Fair weekend. So, there was three times the dogs, people and half the space. All factors leading to an unpleasant experience. We probably should of left three confrontations earlier than when we did. First, an extremely fast smaller Great Dane was chasing Sophie and I think snipping at her. Sophie can be timid and is usually the faster dog. So when this dog over powered her she started whimperings and hiding behind Ryan and me. Right after that a few hounds started barking and Sophie over and over. This definately startled Sophie because she was shaking! Both owners got their dogs and put him on a leash for awhile and after that left poor Sophie alone. Next in a small space with lots of running Sophie was involved in a collision and was slightly airborn at one point. Later, I was talking with another woman whose dog (lab/german shepard) looked identical to Sophie. Their noses were a little different. And I am always interested in figuring out what Sophie's other half is. She had her two children at the park as well, one being an infant. I have decided after today Andrew is NEVER going to the dog park until he is at least 5 years old or unless I am desperate to get out of the house one day and that is where we end up. They were about to leave and had their dog leashed when a doberman (not sure what exactly set him off) started to attack the poor lab, lots of teeth and bitting hard. The dad had the dog and baby and was trying to stop the fight and was nearly knocked to the ground and in the process the baby was left on the ground crying with dogs everywhere. Mom ran and got the baby and was kicking the the doberman while while the owner had his arms wrapped around it, hitting it in the jaws. VERY scary. I think the lab is alright. I know the owners of the doberman were pretty upset too. The mom and dad seemed very calm about it. I on the other hand was almost in tears. Leaving the park Ryan and I decided Andrew does not need to go to the Dog park for awhile.
Subject Change:
I am in love with four day weekends. I need them more often, at least this time of the year. 53 days till summer vacation. Can't wait. I already know what my time and money will be spent on. I have started thinking about furniture and wheather or not to paint. The walls are a great creamy neutral color and not stark white. The tile and carpet are a medium beige.
Kitchen: Cabinets are a light oak with laminate counter tops that are dark black/brown granite pattern. Appliances are black. There is not much counter space so I want to get an island. I was thinking that this all black island would be a good contrast to the light oak cabinets and match the black appliances. If I got black island I would probably want a black kitchen table to match in the breakfast area.
Family Room: I like this set, dark so it will hide stains. Though the lamps that come with this set I am not a huge fan of.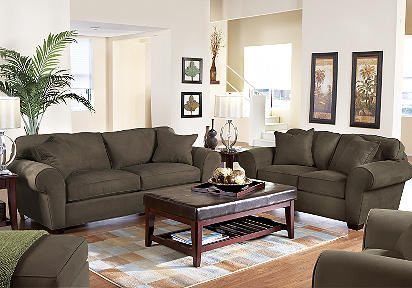 In the living room we will also need somesort of TV stand for our flat screen. There is a TV nook but we haven't measured the width yet and there is some concern that our tv may be too large for it. If so it goes to the man room/ office/den/ a place that I will have to compete with for my husbands attention.
I like these stands:
Master Bedroom:
Dinning Room: This room will probably the the very last room we furnish because it is not a high priority or need.
Some other things we will need will be ceiling fans, garage opener, under counter storage, etc.
So, this is all a WISH list. Hope everyone has a great Easter Break!